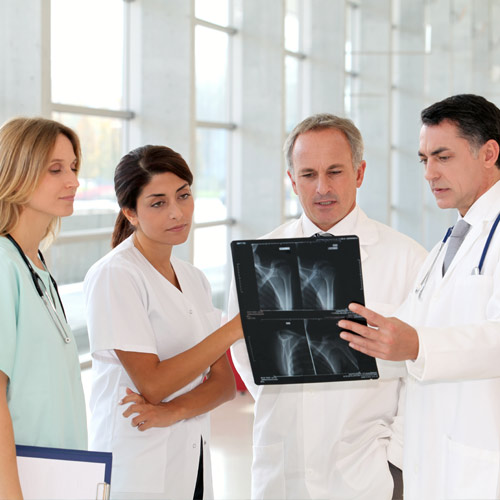 Current students say:

It was a fun and informative class.  It was good to have the syllabus as a guide but I found the added reading to be very useful…an opportunity to see what HCIT professionals think from a nonclinical point of view.  Refreshing.
– Michelle Flemmings, MD, FACEP
 

I really enjoyed this class! My favorite section was the genomics and bioinformatics week.  Lots of great information about a topic I knew little about, and now feel very interested to learn more. 

– Kyle Niejadlik

 At first I thought I may have bit off more than I can chew.   But I have to say I appreciated having other students of varying skill/career levels providing different points of view.  It really provided insight I don't think I would have gotten otherwise.  I would like to thank you and all my classmates for the experience. 

– Charles O'Neal

 

I like the lecture slides, it helps me to study.  And I have to say every topic to me is an eye opener.  8 years working as an IT tech in nursing home and I feel now I am the frog that finally jumps out [of] the well and sees the bigger sky.  

– Philip Liu

I really enjoyed all the topics of the course.  As an independent retail pharmacist, I am mostly a hybrid business owner and healthcare professional.  A very small percentage of retail pharmacists have a base understanding of the current HIT information.  Learning about the IT topics from this course has my mind whirling with ideas on how to improve healthcare at the outpatient retail pharmacy level, for example, finding ways to collect and utilizing pharmacy data to pharmacogenomics testing to biometric identification of workers having access to ePHI.  The best thing about this course for me, is now I can hold down a conversation with my IT friends.  They are puzzled and amazed that as a pharmacist I know what predictive analysis is!!


–  Razur Rahman
Graduates of the program have said:
I attended the University of Connecticut – Health Information Technology Certificate program and received a wealth of information, which has provided a wonderful foundation for my work in health information technology. It has expanded my career, knowledge and depth of expertise. If you're looking for a challenging program, look no further.
– Melanie Bujanda-Romero, MPH
---
I was a single Mother and have been in IT for 15 years, yet found myself facing another round of company layoffs due to my position being outsourced and offshored. I immediately registered and began the programs; they were invaluable and tailored specifically for what I needed. I finished the program, updated my resume to reflect the certificate from UConn and within one month, I was hired by a prominent healthcare company in Westchester County. I give all credit to UConn for making programs like this available and for giving me a second chance at a thriving career. I am beyond appreciative to have received such a gift at this stage in my life, thank you sincerely.
– Veronica Aguirre
Prior to starting the HCIT program at the University of Connecticut I knew little about the intricacies of the world of Healthcare Information Technology. As a former Clinician and a Medical Sales Professional I knew the importance of sharing and using data to help care for and manage patients in the Hospital and throughout the community. Upon starting the courses I quickly realized the competency of the Instructors and the relevance of the material. The Instructors bring real world experience from leadership positions in some of the top Hospital IT departments in the country. After completion of the HCIT program I felt better prepared and more confident when speaking with Executive Leadership at the accounts I manage.
– Christian Joseph