Program Seeks to Bring Best of Nursing and Business to Long-Term Health Care Management
The Schools of Business and Nursing are forming a new collaboration to administer the highly successful Graduate Certificate Program in Long-Term Healthcare Management.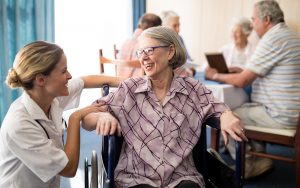 Offered by UConn's School of Business for over 40 years, the graduate certificate program has prepared 7 out of every 10 current skilled nursing-home administrators in Connecticut.
Alumni also serve in leadership roles in continuing care and assisted living communities, home healthcare agencies, hospice centers and more. The new collaboration with the School of Nursing brings the clinical care perspective into long-term care administration.
"Professional business leadership, combined with exceptional clinical care, is the ideal combination for patient care and institutional strength" – Dean John A. Elliott
The Certificate Program in Long-Term Healthcare Management is designed to meet all State of Connecticut requirements for long-term healthcare administration licensure. It is offered by the Schools of Business and Nursing and is fully approved by the State Department of Public Health. The primary objective of the program is to prepare students for careers in long-term health care management.
Over 99% of our students completing the program have successfully completed State of Connecticut Department of Public Health licensure examinations, and our program maintains the highest pass rate of all educational programs in Connecticut. The small, personalized nature of our program lends itself to on-going interaction between students and faculty, strong advisory support, and placement assistance upon completion of the program.
Spring 2024 Information Sessions
These virtual information sessions will provide an overview of the 12-credit Graduate Certificate Program in Long-Term Healthcare Management. Join us to learn more about the program, ask questions, and meet others interested in long-term care administration. Please use the following links to register for the event you plan to attend. Prior registration is mandatory, as once you register you will be sent the WebEx link. The session dates and registration links are as follows:
Spring 2024 Session Dates and RSVP Links
Wednesday October 11th at 12:00pm: https://uconnvtc.webex.com/weblink/register/r30e1833ab9b6510d00d8d4e69d6b2265
Friday November 3rd at 12:00pm: https://uconnvtc.webex.com/weblink/register/r0fe0be7de69be35cbf7994a75d0da6b6
Friday December 1st at 4:00pm: https://uconnvtc.webex.com/weblink/register/r7facf98d09a3af610365638890b6868c